About Us
Top Press Co. Ltd. was established in December,1994. Situated in Scarborough, we started off with a hand-fed Die Cutter, majoring in blank cake box products. In 1996, we changed our business direction to serve the printing and packaging industry. During this time, we equipped ourselves with two Cylinder Die Cutting Presses, the IJIMA die cutter, the Moll Folding & Gluing Machine and an UV coating machine. Business grew rapidly, and in 2001, Top Press moved to Markham, with a new Bobst Diecutter and Bobst Media Gluer added to the family of machinery. We realized the need for a change as the business expanded, thus in 2005, our die making system was enhanced with a new laser machine, an Auto Die Processing machine, as well as a Foil & Embossing Machine. In the year 2009, we moved to a 20,000 sq. ft. facility with a large format Die Cutting Machine and Mounting Machine. All of these advancements and our flexibility for changed have enabled Top Press to succeed for the past 20 years.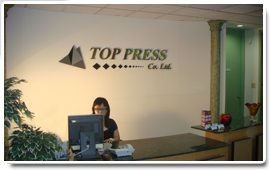 Mission Statement:
We contribute to the success of our customers by supplying them with excellent service and fast turnaround time.
Core Values:
We achieve high customer satisfaction through reliability, responsiveness and quality.
We are dedicated to improving our processes, products and services.
We are committed to our social responsibility, safe workplace and clean environment.
Top Press will work to meet our customer's needs, commit to excellence in our service and will promote continuous improvement towards value-added operations. Only embracing these principles will we, in fact, become part of our customer's business.
Our services: